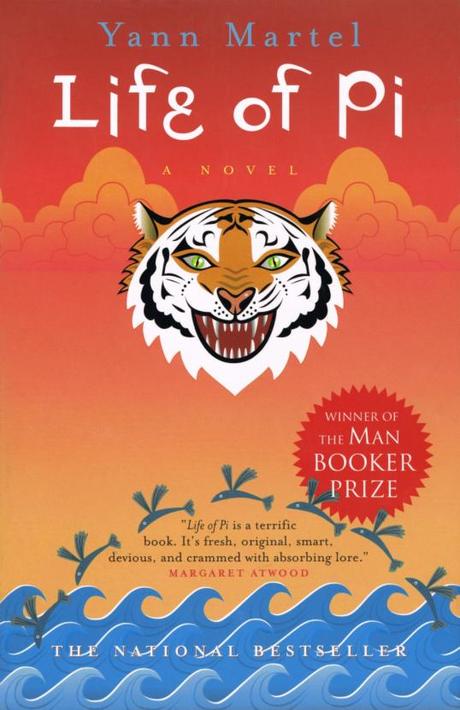 The Life of Pi is a story about a young Indian boy and his family who decide to give up their Zoo in Pondicherry, to move to Canada. All does not go to plan when their ship sinks in a matter of minutes, leaving Pi and a small assortment of animals as the only survivors. 
The book follows Pi's 227 day journey, where he battles with despair, hopelessness and a Tiger, before stumbling across land.
Pi spends the first 100 or so pages talking about religion and spirituality, which gets tedious in parts and I found myself fighting hard not to skip pages. Amongst the talk of religion there are some gems, funny lines and nice quotes about life, so all is not completely lost.
Disappointingly the first part about religion doesn't exactly contribute to the rest of the story, aside from implanting in your brain that ultimately Pi will survive, taking any kind of tension away from the book.
Pi finds himself sharing a lifeboat with a zebra, a hyena and a tiger, and there's a stray orangutan in there somewhere as well.
I really struggled to read about animal violence and suffering, I know it's nature and it's what happens but it really upsets me. A kitten with the sniffles is enough to have me reaching for the Kleenex, so reading about a hyena chomping on the insides of a zebra was tough to read.
Despite that, I really enjoyed it when Pi decided he'd have to try and tame the tiger, called Richard Parker, otherwise he would wind up discovering the insides of a tiger. He is successful and the two seem to build up a friendship and a mutual respect for each other, so I was quite sad to see Richard Parker disappear into the jungle at the end of the book.
In terms of the writing style, it was a bit erratic and all over the place, which sometimes made it hard to read and hard to keep up with, so all in all I wasn't a fan of it.
Worse than that I don't feel like I cared about Pi at all, there was no emotional connection. In fact, this book is completely void of emotion. You'd think a young boy who had just lost both of his parents and his older brother would be upset about it, but he doesn't seem to be. At the end of the book Pi says that he thought about his family every day, but they were barely mentioned at all.
The lack of emotion combined with it being written in past tense meant I wasn't gripped or hooked at all. I knew Pi would survive and the book offered up no reason for me to be concerned or worried about whether or not Pi would survive.
I was disappointed by this book, I was really hoping I would enjoy this book after hearing a lot of good things about it. I was hoping to read it and then go and see the movie, after reading the book though I don't see how the movie could be any better, so at least I won't be wasting a tenner and two hours of my life watching that.
Would I recommend it? 
Not really no. No, I lie; if you find yourself stranded in an airport for 6 hours due to a delayed flight, then yeah this might help you pass the time.
2 Out of 5. 
What did you think of The Life of Pi.