Spoiler free review!
Once again Marie Lu has created a magical world that I have fallen in love with and want to visit. (Yes, despite it being a little deadly.)
Kenettra is clearly based on renaissance era Italy and it is beautiful. The thing I love most about Lu's world building is that it's subtle. She doesn't bombard you with descriptions and you slowly sink into the book and end up in awe of your surroundings.
I'm not going to waffle on this whole review about the world building in The Young Elites, but it is glorious.
Characters
In most books the main character is a good person. They might falter occasionally but to their core they're a truly good person, but that isn't the case with Adelina. She has had a hard life since she was marked by the blood fever and she's aware that she would find it just as easy to be bad as she would to be good. It's really interesting to watch that internal battle throughout the book.
The secondary characters are all interesting and they all seem to have complicated backgrounds. The character I'm most intrigued by is Raffaele. Like Adelina, he hasn't had an easy life and I want to know more about him. I also want to give him a hug.
Plot
The Young Elites has a fairly complex plot and at times it is a bit overwhelming. I don't know if that's intentional or not but I think it's quite clever because Adelina clearly feels out of her depth at times and the complexity of what's going on helps the reader feel that.
You're kept guessing throughout the book and there are a couple of surprises. The pacing is good throughout; it's fast when it needs to be and slower when you need to take in more information and figure out what's going on.
While I really enjoyed this book, there's something about it that I can't quite put my finger on which stopped it from becoming a favourite of mine. I'm not sure what it is, but it's just not quite there. Don't get me wrong it is a great book and is worth a read.
The Young Elites is the first installment in a series and on it's own it works well. The last few pages begin to set up for the second book and I have no idea when that is coming out which makes me sad because I want to devour this series.
Have you read The Young Elites?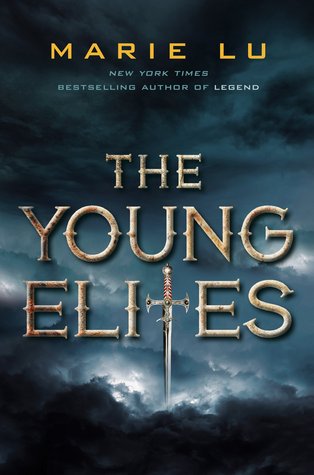 The Young Elites
The Young Elites
Fantasy,
G.P. Putnam's Sons Books for Young Readers
October 7th 2014
Hardback
355
I am tired of being used, hurt, and cast aside.
Adelina Amouteru is a survivor of the blood fever. A decade ago, the deadly illness swept through her nation. Most of the infected perished, while many of the children who survived were left with strange markings. Adelina's black hair turned silver, her lashes went pale, and now she has only a jagged scar where her left eye once was. Her cruel father believes she is a malfetto, an abomination, ruining their family's good name and standing in the way of their fortune. But some of the fever's survivors are rumored to possess more than just scars—they are believed to have mysterious and powerful gifts, and though their identities remain secret, they have come to be called the Young Elites.
Teren Santoro works for the king. As Leader of the Inquisition Axis, it is his job to seek out the Young Elites, to destroy them before they destroy the nation. He believes the Young Elites to be dangerous and vengeful, but it's Teren who may possess the darkest secret of all.
Enzo Valenciano is a member of the Dagger Society. This secret sect of Young Elites seeks out others like them before the Inquisition Axis can. But when the Daggers find Adelina, they discover someone with powers like they've never seen.
Adelina wants to believe Enzo is on her side, and that Teren is the true enemy. But the lives of these three will collide in unexpected ways, as each fights a very different and personal battle. But of one thing they are all certain: Adelina has abilities that shouldn't belong in this world. A vengeful blackness in her heart. And a desire to destroy all who dare to cross her.
It is my turn to use. My turn to hurt.