At long last, I finally picked up The Raven Boys to find out what all the hype is about and yes! I see it! I get the hype! 
While I adore this book, it's hard to review because I just don't know where to start fangirling first.
Characters
Let's start with our adventurers, as they are arguably the most important part of any book.
All of the characters are well developed. They are realistic, have relationships with people other than the main characters, they have flaws and issues and react in realistic ways.
I loved the sense of humour and the bants between the characters as well, it was entirely my sense of humour.
Ronan was a bit unhinged and I could feel that and felt a little nervous whenever he appeared in a scene, as if I were Blue, and felt like I was walking on eggshells around him.
By the end of the book I had a good feel for the main characters and even the secondary characters are interesting, especially Blue's family and I hope we get to learn more about them in the following books.
The Raven Boys is told from multiple points of view. Most of the time we will follow a character for that entire chapter but there are a handful of chapters where we suddenly switch POV without warning and that's jarring. Since it only happens a couple of times, I'm willing to let it slide but I hope it doesn't happen in the next book.
World building
The thing that struck me early on was that Stiefvater had seamlessly blended the real world and the paranormal to the point that it seemed entirely real and normal. The paranormal didn't seem that abnormal to me, if that made sense.
I don't know how Steifvater did it, but I believed that what was happening in this book could plausibly happen in real life and it wouldn't be all that weird.
That probably still doesn't make sense.
Romance
As you might have gathered from the description, there is a prophecy about romance. The romance and the prophecy doesn't play a huge part in this book and isn't the main focus.
There is a romance in The Raven Boys but the balance was just right and it didn't take over from the plot.
Plot and pacing
As I just mentioned, the main focus of this book isn't actually Blue's prophecy and I think that's worth knowing as you may be surprised otherwise. It really annoys me when a books blurb focuses on something which isn't the main focus of the book. The prophecy is always there in the back of your mind but it isn't what the entire book is about.
The pacing was perfect and I couldn't put this book down once I'd started.
Conclusion
I loved The Raven Boys and I'm looking forward to picking up the second book, The Dream Thief. If you enjoy books that blend the real world with the paranormal, I think you'll enjoy this book.
 Have you read The Raven Boys?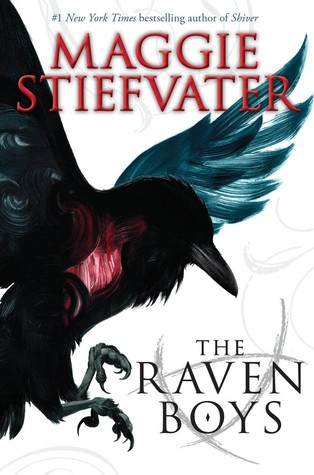 The Raven Boys
The Raven Cycle
Young adult, paranormal, fantasy
Scholastic Press
Paperback
"There are only two reasons a non-seer would see a spirit on St. Mark's Eve," Neeve said. "Either you're his true love . . . or you killed him."
It is freezing in the churchyard, even before the dead arrive.
Every year, Blue Sargent stands next to her clairvoyant mother as the soon-to-be dead walk past. Blue herself never sees them—not until this year, when a boy emerges from the dark and speaks directly to her.
His name is Gansey, and Blue soon discovers that he is a rich student at Aglionby, the local private school. Blue has a policy of staying away from Aglionby boys. Known as Raven Boys, they can only mean trouble.
But Blue is drawn to Gansey, in a way she can't entirely explain. He has it all—family money, good looks, devoted friends—but he's looking for much more than that. He is on a quest that has encompassed three other Raven Boys: Adam, the scholarship student who resents all the privilege around him; Ronan, the fierce soul who ranges from anger to despair; and Noah, the taciturn watcher of the four, who notices many things but says very little.
For as long as she can remember, Blue has been warned that she will cause her true love to die. She never thought this would be a problem. But now, as her life becomes caught up in the strange and sinister world of the Raven Boys, she's not so sure anymore.