Cinder was probably one of the first books I put on my to be read list when I joined Goodreads and after hunting it down in a library near me (book buying ban remember?), I finally found out what all the hype was about.
In case the name and description hadn't given it away; Cinder is a retelling of the fairytale Cinderella. This is the first retelling I've read and I think it's set the standard pretty high.
Since it's a retelling, it is predictable but that doesn't mean it's boring or isn't worth the read. I knew how it should end but I felt myself worrying for Cinder and hoping that everything would turn out right.
I also felt myself willing Prince Kai to make the right decision and turning each page with a little bit of dread, just incase he didn't.
If that isn't the sign of a great author, then I really don't know what is.
Meyer allowed me to feel Cinder's feelings, and her stepmother / guardian? Jeez, I don't think I've ever wanted to punch a character so much since Dolores Umbridge. I'm getting a little riled up just thinking about her, she was so horrible to Cinder and I could feel that.
The first half of the book a little slow in places but the second half onwards was much more action-packed and gripping.
It's books like this that make me want to read more sci-fi based books. The very idea that Cinderella is a cyborg is AWESOME and I want to read more books like that.
Scarlet is the second book in The Lunar Chronicles series and to be honest I'm a little miffed that another seemingly important character comes into play because I like Cinder and I want to read about her and just her. I don't want another new main character.
I guess I feel like when one of your parents has a new boyfriend / girlfriend and you meet them warily for the first time and in your head you're thinking: "YOU'RE NOT MY MUMMY! Don't you try and be cooler than her!" I'm sure Meyer will win me over though.
Have you ever read a fairytale retelling?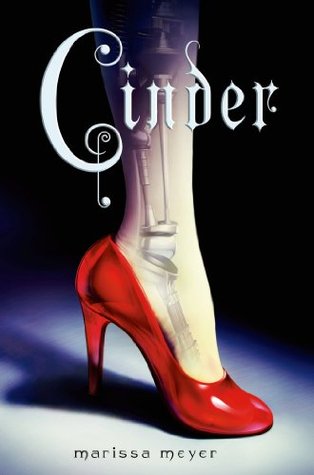 Cinder
The Lunar Chronicles
Young adult, fantasy, retelling,
January 3rd 2012
Paperback
390
Humans and androids crowd the raucous streets of New Beijing. A deadly plague ravages the population. From space, a ruthless lunar people watch, waiting to make their move. No one knows that Earth's fate hinges on one girl.
Cinder, a gifted mechanic, is a cyborg. She's a second-class citizen with a mysterious past, reviled by her stepmother and blamed for her stepsister's illness. But when her life becomes intertwined with the handsome Prince Kai's, she suddenly finds herself at the center of an intergalactic struggle, and a forbidden attraction. Caught between duty and freedom, loyalty and betrayal, she must uncover secrets about her past in order to protect her world's future.