I thought I'd try out something new with my book reviews, so today I bring you a two minute review of A Court of Thorns and Roses.
It was really fun to review against the clock, and I think I did a fairly good job. Though I am biased.
If you can't / don't want to watch my video, or want a longer review, then read on.
Sarah J. Maas is a writer I've heard fantastic things about, and I do own Throne of Glass but I haven't got around to reading it yet. When I went to Spain a few weeks back, I kinda, sorta fell in WH Smiths and ended up buying A Court of Thorns and Roses, or ACOTAR as I will refer to it from now on, to see what all the fuss was about.
Synopsis
ACOTAR is a retelling of Beauty and the Beast, mixed with faerie stories.
Our main character is Feyre, who comes from a family who have lost their fortune. She is pretty much Katniss Everdeen and has to hunt to provide for her family, because her Dad is injured, and her sisters are lazy so-and-sos.
When she kills a wolf in the forest one day, she is forced to pay with her own life. And that means going to live with someone she has been taught to fear.
Characters
Feyre is everything we've come to expect from badass female protagonists: independent, strong-willed, headstrong, and protective of her family. And you just know that will cause all kinds of trouble for her.
Our other main characters are two faeries called Tamlin and Lucien. Like Feyre, they're well-developed with solid backstories, and they're likeable characters.
I had two issues with the characters. The first was that Tamlin wasn't exactly "beasty" enough. The story is that he's supposed to be an awful beast, and how could someone fall in love with him? But honestly, he sounded pretty damn handsome, and he wasn't an unlikeable character at all. If anything, Feyre might have been more beast than Tamlin.
On top of that, I didn't connect with the characters enough to feel for them, or really care.
The final third of the book was the most exciting, and I should have been super gripped and worrying about the outcome, but I wasn't really.
World building
The world building was detailed and generally fantastic, without being overbearing. I felt like I was walking through the grand rooms, the garden, and the stuff that happens at the end that I can't talk about because SPOILERS!
I felt so immersed in this book that I couldn't ask for anymore from the world building; it was magnificent.
Conclusion
I was a little disappointed with A Court of Thorns and Roses. The world building was stunning, but that didn't make up for the lack of action in the first two-thirds of the book, and my lack of a connection to the characters.
I'm not saying that I don't recommend this, because plenty of people love it more than I do, and I recommend it for the world building alone. I wish I liked this book more than I do, I'm sure you know what I mean.
Have you read ACOTAR? Or have you ever read a book you wanted to love more than you did?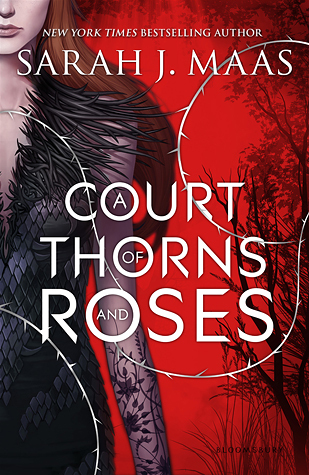 A Court of Thorns and Roses
A Court of Thorns and Roses
Fantasy, young adult, romance, retellings, new adult,
May 5th, 2015
Paperback
416
When nineteen-year-old huntress Feyre kills a wolf in the woods, a beast-like creature arrives to demand retribution for it. Dragged to a treacherous magical land she only knows about from legends, Feyre discovers that her captor is not an animal, but Tamlin—one of the lethal, immortal faeries who once ruled their world.
As she dwells on his estate, her feelings for Tamlin transform from icy hostility into a fiery passion that burns through every lie and warning she's been told about the beautiful, dangerous world of the Fae. But an ancient, wicked shadow grows over the faerie lands, and Feyre must find a way to stop it . . . or doom Tamlin—and his world—forever.