Grab a cuppa and get comfy, because my review of Did I Mention I Love You, is a pretty long one.

Swift synopsis: When Eden goes to spend the summer with her Dad, who she still hasn't forgiven for walking out on her, and his new wide, and step-kids, the last thing she expects is to actually have a pretty good time.
For me, Did I Mention I Love You was very much a book of two halves. I found the first half to be fairly uninteresting. We met Eden's Dad, his new wife, and Eden's step-siblings, Eden makes some new friends and it's all pretty forgettable to be honest. Nothing major happens. The only thing of note is that her oldest step-brother, Tyler, is constantly getting into trouble and Tyler and Eden hate each other.
The second half is much more interesting, though there is a major case of a sort of instalove. Eden and Tyler spend the first half of the book hating each other, but all of a sudden they decide they like each other. Not quite instalove, but definite unexplained love. They spent the first half of the book really not liking each other, and then they're kissing and that left me confused. I found myself skipping back a few pages to see if I'd missed something out. Alas, I hadn't.
I think the best thing for me to do here, is to split out the positive and negative points, otherwise this review is going to be all over the place.
Good
A realistic portrayal of being a teenager: There were plenty of underage parties and drinking in Did I Mention I Love You, and like it or not, under age drinking is a realistic part of being a teenager for a lot of people. I'm not suggesting it's right, or that all teenagers spend every night getting hammered, I'm just saying it's good that the author acknowledged this instead of pretending that teenagers are perfect and stay in being sober every night. Props to Estelle for that.
The scary girlfriend: Tyler's girlfriend was a very well-developed character, who scared me a little bit at points and might well remind you of someone you went to school with. To be fair, I think she might have had more about her than Eden, which I guess makes this a good and a bad point.
Family issues: I felt the issues between Eden and her Dad were pretty realistic and were handled (or not handled as the case may be) in a realistic way. My Dad and I didn't get on when I was a teen (because we were way too similar and both stubborn donkeys) and we just didn't talk about it for a couple of years, so I can relate to the way Eden and her father's relationship played out in this book.
The second half was gripping: While the first half of the book didn't really feature anything that kept me hooked, the second half was miles better in that department. Once Eden and Tyler admitted their feelings for each other, it became more interesting as they tried to figure out how to handle their feelings.
The not so good

Unexplained romance: As I mentioned above, there was no real attempt made to explain why Eden and Tyler suddenly fancied the pants off each other. There were a couple of times where it felt like Estelle was going to explain why the pair were suddenly all over each other, but it didn't happen and any attempts to were pretty unconvincing.
Friendships rushed: This book also had a case of instafriendship, and I feel like a little more time should have been taken here. Most of her friends were pretty unforgettable, and I was often confused about who was who.
Some things were let go of too easy: I won't go into too much detail here because of spoilers, but Tyler's girlfriend is pretty conniving. Yet when she is left, she kind of lets it go a little too easily considering what we're led to believe about her. I felt like maybe she would have put up more of a fight, even though she was in the wrong.
Perhaps not the best messages about addiction: Tyler suffers from addictions as a result of terrible things that happened in his childhood. For the majority of the book he is often drinking and / or taking / dealing drugs, but when he and Eden get together he seems to get over it quite quickly. That didn't quite sit with me very easily.
As someone who has seen what addiction does to people, I don't feel comfortable with that portrayal of just getting over addiction. Maybe it can work that way for some people, but for the majority it doesn't and I felt it was the wrong message to be sending to a young audience. Perhaps I'm just looking into this a bit too much because of my experiences, I dunno.
The step-sibling thing was a non-issue: As you might expect, Eden and Tyler try to hide their feelings because they're step-siblings. To me, this was a bit of a non-point. Maybe I'm just fairly open, but they weren't raised as siblings, so who cares if their parents are married? I don't. They aren't related and weren't raised as siblings, so the whole 'what would people think, we're step-siblings' point got fairly old for me quite quickly.
The better sticking point was that Tyler had a girlfriend. A controlling and horrible one at that.
Conclusion: *Exhales* This is a fairly hard one to summarise because I have so many mixed feelings. Did I Mention I Love You was not perfect, but the second half of the book was pretty gripping and despite all the negatives I've mentioned I'm hopeful that the next book will be better and I will read it because I need to know what happens to our characters.
*I received a free copy of Did I Mention I Love You in exchange for an honest review. This in no way affects my opinion.
What was the last book you read that you had a love-hate relationship with?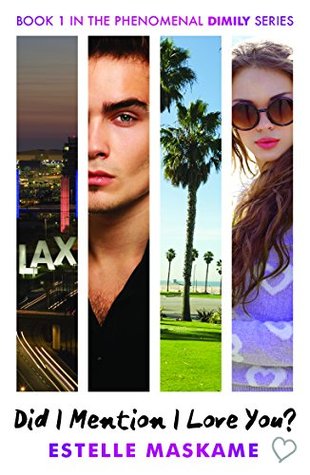 Did I Mention I Love You
Did I Mention I Love You
Romance, young adult, contemporary,
When sixteen-year-old Eden Munro agrees to spend the summer with her estranged father in the beachfront city of Santa Monica, California, she has no idea what she's letting herself in for. Eden's parents are divorced and have gone their separate ways, and now her father has a brand new family. For Eden, this means she's about to meet three new step-brothers. The eldest of the three is Tyler Bruce, a troubled teenager with a short temper and a huge ego. Complete polar opposites, Eden quickly finds herself thrust into a world full of new experiences as Tyler's group of friends take her under their wing. But the one thing she just can't understand is Tyler, and the more she presses to figure out the truth about him, the more she finds herself falling for the one person she shouldn't – her step-brother.
Throw in Tyler's clingy girlfriend and a guy who has his eyes set on Eden, and there's secrets, lies and a whole lot of drama. But how can Eden keep her feelings under control? And can she ever work out the truth about Tyler?
Did I Mention I Love You is the first book in the phenomenal DIMILY trilogy, following the lives of Eden Munro and Tyler Bruce as they try to find their way in an increasingly confusing world.